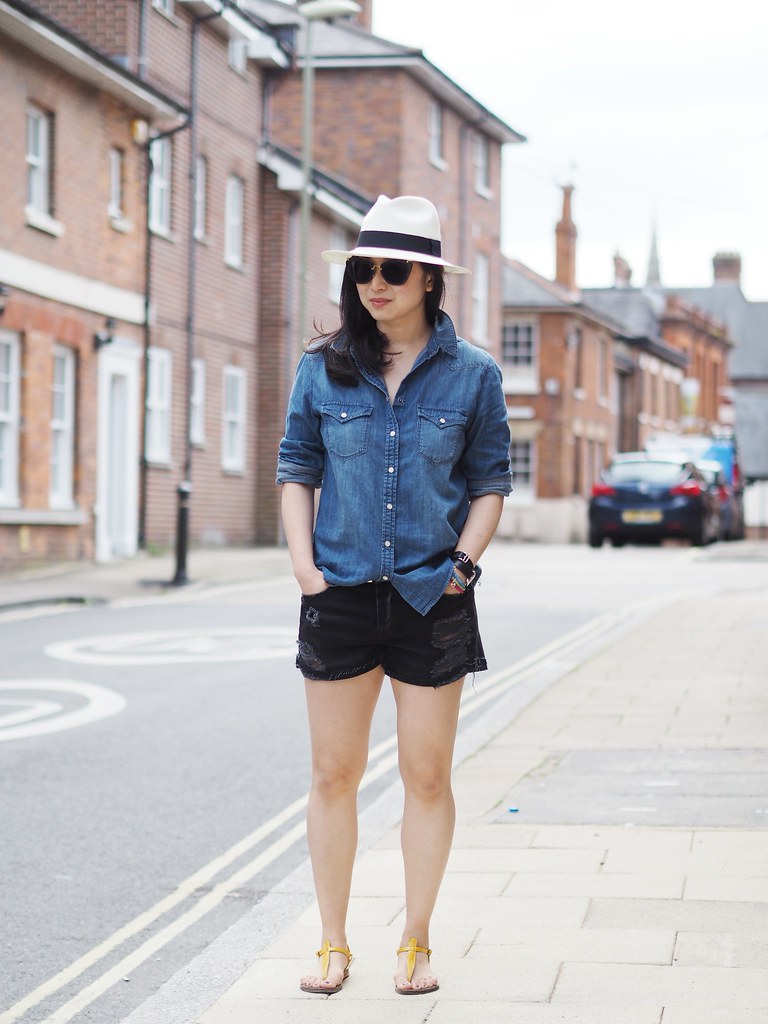 Outfit:
Mango denim shirt
,
Mango shorts
,
Tumi panama hat
,
K.Jacques sandals
,
Miu Miu sunglasses
,
Hermes Cape Cod
and
MeMe London bracelets
.
A few days ago, the sun was out, the birds were chirping, the mercury was hovering around 17˚C and it felt like spring was here to stay. Hence, this outfit. Had I worn this out today, I would've turned into a human ice block. I rarely put away my autumn/winter clothes because the weather here changes in a blink of an eye.
Ever since I turned 40, I decided......life is
waaaay
too short to follow all these strange rules about what "older" women should or shouldn't wear. As long as you're comfortable and the style suits you to a T, who cares?
I've never owned a pair of black ripped shorts so I thought I'd give them a go. These are seriously
riiiiiiiiippppppppped
which means my upper thighs are well ventilated. I could even strum the purposely exposed threads like a guitar. The thoroughly distressed shorts will come in handy later when I'm off for my summer vacation. They're also remarkably comfy which gets a thumbs up from me. The shorts run big so be sure to size down.
I'm also loving this
denim shirt
from Mango lately. I sized up to a medium for a slouchier look (
I don't like fitted clothes
). Another thing......I've finally found my holy grail panama hat to replace my old battered one. I wanted a stiffer Ecuadorian straw panama hat in bleached white with a wide-ish brim. I've been "blessed" with not only child sized feet (
actually, 8 year olds have bigger feet than me. pfffft
), I also have a smaller than usual head. Lucky me.
Locating a size 54cm panama hat was a pain in the rear end. It took a while but I found
these guys in the UK
who sell pretty darn impressive Ecuadorian panama hat for a fraction of the retail price elsewhere. Mine cost £33.95. By the way, they also work with Traidcraft and Oxfam which is great to hear.
My ever pragmatic self used to pooh-poohed the idea of buying flowers. Waste of money. Or so I thought. That was before I became obsessed with cherry blossoms and wisteria. If you follow my
Instagram feed
, you'll know that I've gone completely flower bonkers (
wow, that rhymes!
). An elderly grocer in town has been teaching me the names of all the flowers in his store. The latin words are sinking in.........s l o w l y. This time next year, I'll be able to blurt out the names like a professional florist without stammering but right now.........
"
you know that pinkish flower...lots of petals...some leaves?
"
"
You mean peonies.
"
"
Erm....like this photo on my phone?
"
"
Peonies
"
"
Oh
"
I couldn't resist sneaking in the last photo of the double rainbow outside my window. The weather has been atrocious lately but we were rewarded with these stunning rainbows tonight. Perhaps it's a metaphor for life. No matter how rough the ride we're on right now, there's a silver lining or in this case, a beautiful rainbow at our destination.